Most web users aren't familiar with domain parking, yet it's something that most of us have encountered.
What is a Parked Domain?
A parked domain is a domain name that has been registered but not connected to an active website. It is not currently being used, but instead is set aside for future use.
Most domains, like nameexperts.com, point to an active web page. But in the case of a parked domain, that address points to a "this domain is reserved" web page, a "buy this domain" page, an advertisement page, or a plain web page with no content. In some cases, it'll point to no web page at all, and you'll see an error in your web browser saying "This site can't be reached".
Why Would You Have a Parked Domain?
There are many reasons for domain parking, including:
Reserving a Domain Name
You might have a domain name that you plan to use for a website in the future. So, you buy it from a registrar and park it to prevent another person from snapping it up and disrupting your plans.
A good domain name is worth its weight in gold, so absorbing the cost of holding the domain when it's not in active use is advisable.
Redirecting visitors to another domain
You can use your parked domain to redirect visitors to another active domain that you own. For instance, you might have owned a website and changed the domain name for marketing purposes. You wouldn't want people typing in the former domain name to get confused, so you redirect it to the new one.
Save it for Reselling
Some domain names can appreciate in value, and many people hold them as investments. You can buy a domain name and park it with the intention of selling it for a higher price in the future.
Site is in Development
The website you want to connect to the domain name may be under development and launching soon. In the meantime, you can park the domain and only connect it to the website when it's ready.
How to Configure a Parked Domain
Error Page
Some parked domains return an error message when you type them into your web browser. The error message varies depending on your web browser, but it usually takes the form of "this site can't be reached".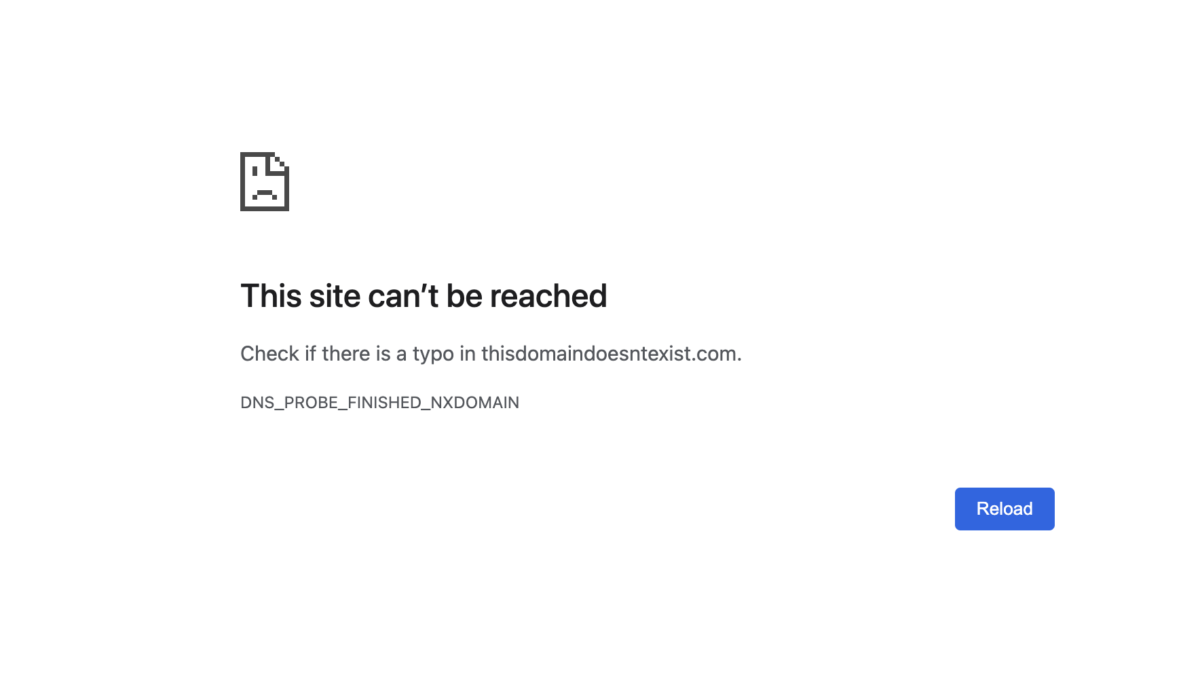 Example of a parked domain – error page
Sales Page
The parked domain could lead to a web page indicating your intent to sell it. This web page will also include information on how to contact the owner or place an offer with a third-party company managing the domain.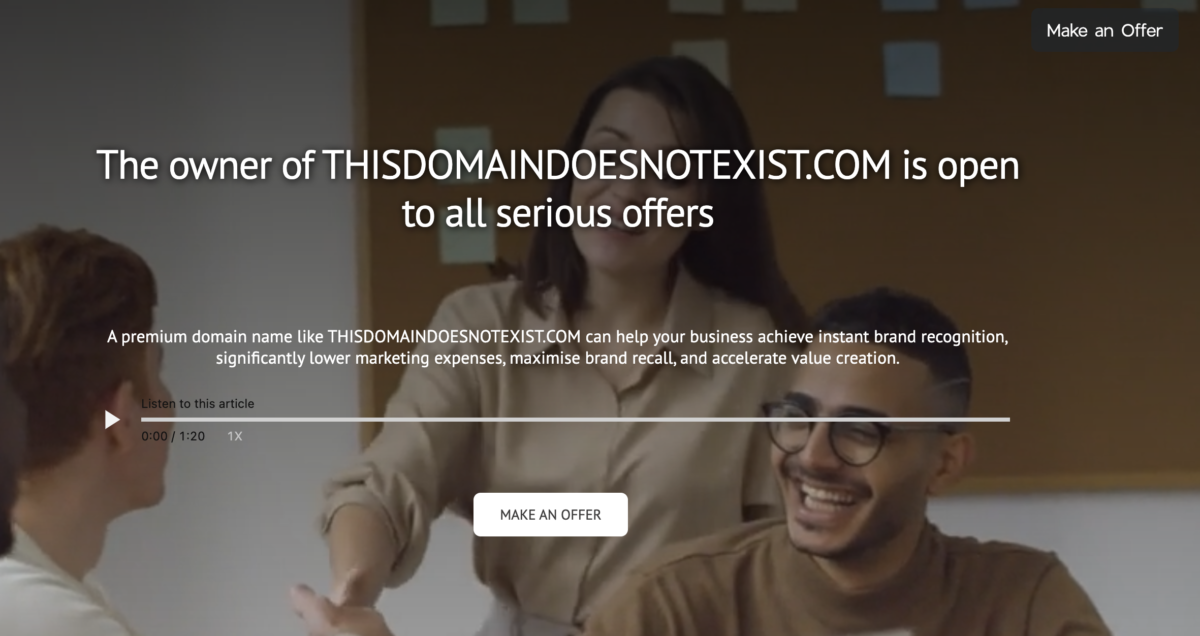 Example of a parked domain with a sales page
Ads Page
Advertisements are a creative way to monetize parked domains. You can insert advertisements on the web page of the domain and earn money each time someone views or clicks on it. In some cases, the advertising income could cover the cost of owning the domain and even bring profits.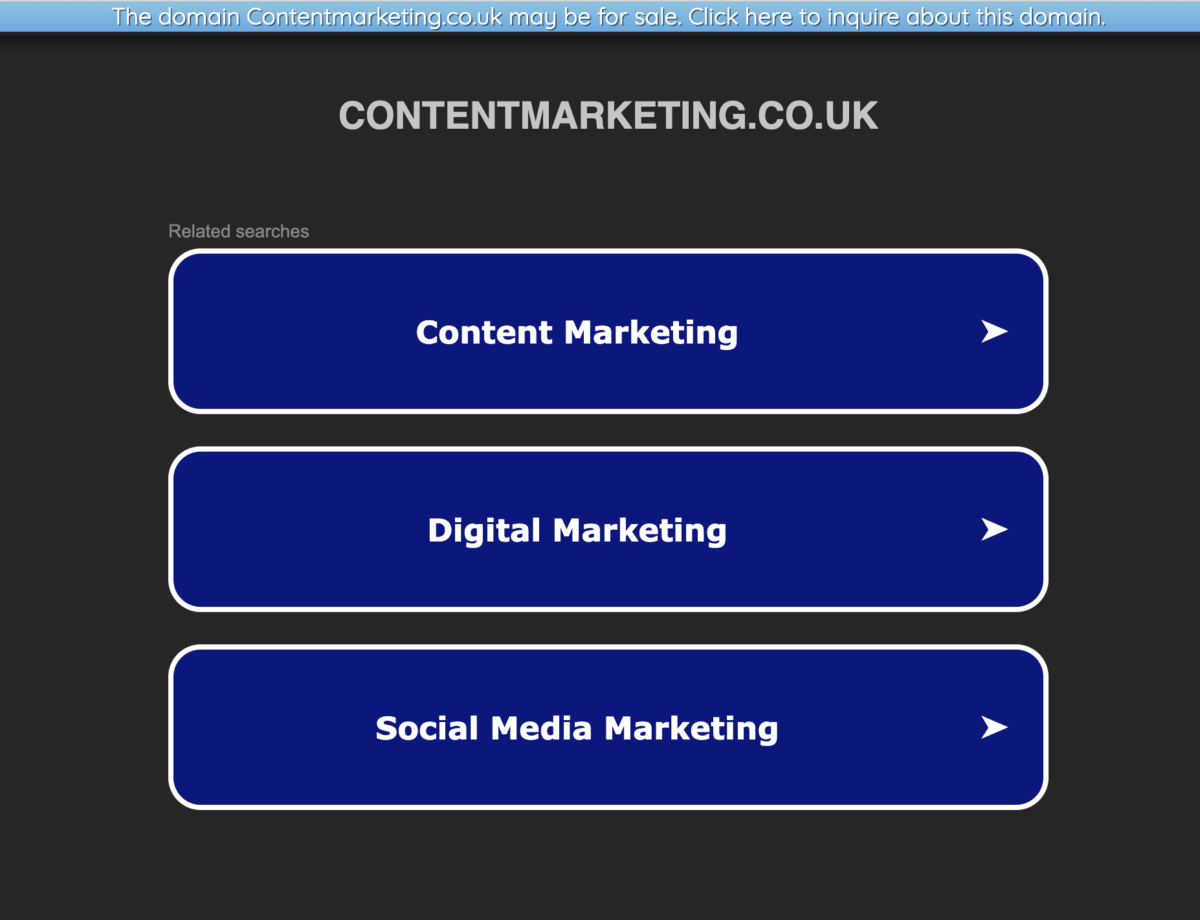 Example of a parked domain with advertisements.
Registrar Page
Here, the parked domain will lead to a web page notifying the visitor that the domain has been registered by someone else. This page is usually automatically generated by the domain registrar whose name and logo will be displayed on it.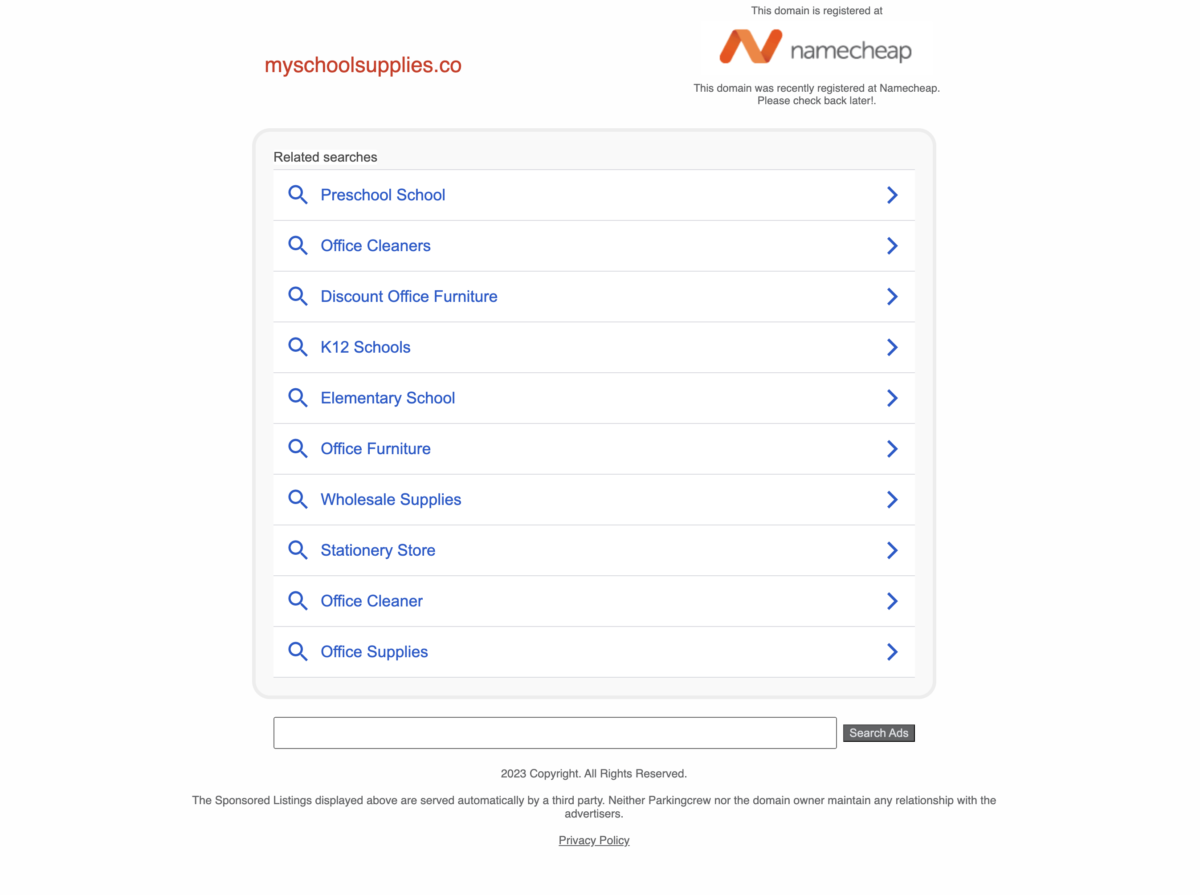 Example of a parked domain – registrar page
How Can You Park a Domain?
The simplest way to perform domain parking is to just register the domain with a registrar like Namecheap or Google Domains. Most registrars automatically park a domain once you buy it. Then, you're free to insert advertisements on the parked web page or place a sales notice if that's what you want.
Suppose you want to redirect the domain to another active domain. In that case, you can set up an automatic redirect by adjusting the domain name system (DNS) records via your registrar or hosting provider.
How to Buy a Parked Domain
There are two major ways of buying a parked domain. You can either find the owner's details directly and contact them or hire a professional domain broker to handle that for you.
Doing it on Your Own
If you find a parked domain that you're interested in, the easiest way to find the owner's details is to perform a lookup on the WHOIS database. This is a public database containing the ownership information of an assigned domain, such as their name, phone number, email address, etc.
Visit https://www.whois.com/whois/ or any other database lookup site.
Type in the domain name you're interested in and hit the search button.
If it's a valid domain, you'll see relevant information such as the registrar, registration date and expiration date, owner's name, and contact information (email, fax, or phone number).
You can then contact the owner and indicate your interest to buy their domain. If they're open to a sale, you're free to negotiate the price and acquire the domain. It's advisable to use a domain escrow service to avoid falling victim to fraud and losing your money.
Using a Broker to Buy a Parked Domain
Finding the details of a domain name's owner is the easiest part. The hardest part is negotiating a 'fair' price to pay for the domain. If you're not experienced in domain name acquisitions, you could end up overpaying for a domain or making such a small offer that the owner ignores you.
The good thing is that you can hire a professional domain broker to handle the negotiation for you. Professional brokers already have experience in negotiating domain name sales, so they can hammer out financial terms with the owner and get you the domain for a reasonable price. They can also handle the domain transfer to your registrar while you sit back and relax. The broker will collect a fee for their service, either a fixed fee, a commission, or a mix of both.
Add On Domain vs. Parked Domain
You can always create a parked domain or add-on domain for your primary website. A parked domain is a simple domain that you point to your primary domain name; Whenever a user types in this second domain, they'll be redirected to your primary domain. They are usually variations of your primary domain name that can confuse users. For example, amzn.com and amzon.com would both redirect to Amazon.com.
An add-on domain is a second or additional domain hosted in the same control panel as the first. You can choose which directory the add-on domain points to. For example, if you put the second domain in a directory called "domain2", it can be accessed by typing domain2.com or domain2.domain1.com on your web browser.
Add-on domains enable you to control multiple domains from a single account.
Set-Up Your Own Parked Domain
Parked domains are very simple to understand. There's nothing special about them, but they can be very useful. We've explained what parked domains are, the reasons for parking a domain, and how you can park a domain. We also explained how you can buy a parked domain you come across and the difference between a parked domain and add-on domain, which confuses many people.
If you need a broker to help you acquire a parked domain, NameExperts is at your service.