We've all heard of Monday.com. They are one of the biggest project management tools on the market.
But, that was not always the case.
Before Monday.com was Monday.com – they were daPulse, a name that ultimately was a hindrance to their growth.
The daPulse name was out of sync with the project management business and limited their ability to scale their business.
Changing to Monday.com was a sound decision that contributed to the company's massive success. It demonstrates how naming is as essential as product development to any technology business.
I was approached by the two founders, Eran Zinman and Roy Mann, to pursue a rebranding project.
They wanted a generic and memorable domain name. One that ended in .com and could be used as a solidified brand. One of the names that stuck early on was Monday.com.
After contacting the owner, the negotiation and engagement was flawless, and ultimately, Eran and Roy were ecstatic with the result.
Early on, I remember some of the feedback was, "what the heck is Monday.com?" But, with fantastic brand marketing, the team has done an exceptional job at growing and scaling the company. It all starts with the foundation or a solid domain name asset to help build a brand.
Here's the story…
In 2012, a group of Israeli entrepreneurs launched a company named daPulse. daPulse launched as a platform for enterprises to organize project management and collaboration between their workers.
Though it started in 2012, daPulse didn't launch commercially until 2014 after significant product testing and development.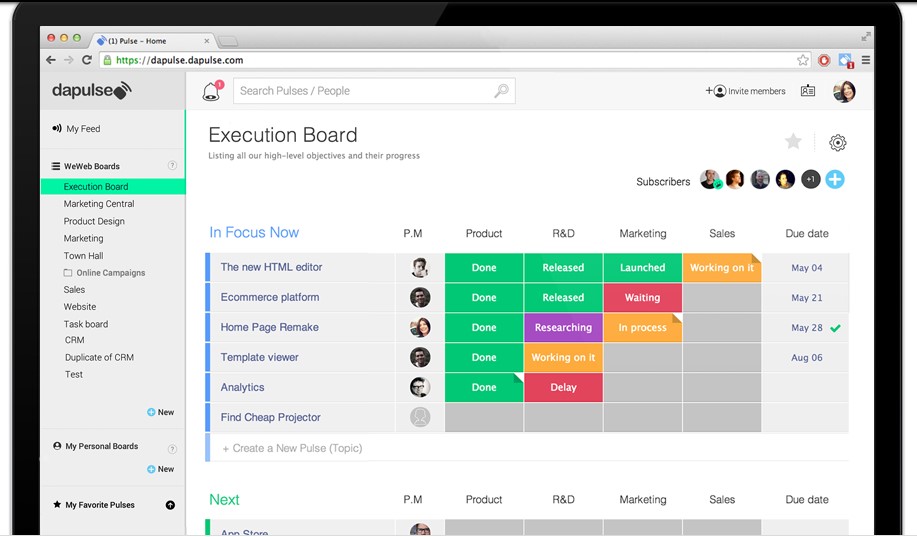 daPulse in its early days.
daPulse gained significant product traction following its commercial launch. The company attracted thousands of enterprise customers worldwide, each paying at least $5 per team member.
daPulse grew rapidly on the backs of venture capital funding. It raised a $1.5 million seed round in August 2012, $7.6 million Series A in 2016, and a $25 million Series B round in 2017. However, there was a problem lurking around; its name.
As daPulse tried to crack through the western markets, especially the USA, its name became an object of teasing and outright mockery. Almost no one could infer what the company does from its name alone.
It seemed like a name chosen only due to the constraints of domain name availability. It had no connection to what daPulse offered as a product, hence the constant teasing. Some said it sounded like the name of a rapper rather than a cloud software company.
daPulse had no choice but to rebrand. It was a hard decision, but it paid off handsomely.
If you're familiar with startups, you'll know that rebranding is challenging. It consumes a lot of human and monetary resources. You're taking on a significant risk of losing your marketing appeal by rebranding your company.
History has witnessed many expensive yet failed rebrands, e.g., Radio Shack to "The Shack" and Overstock.com to "O.Co."
daPulse didn't want to be one of those failures and made a sound decision. The company chose "Monday.com," a generic, fitting name for enterprise collaboration and project management.
"Monday.com" is a name anyone can associate with a company offering software tools to manage workflow within an enterprise. Monday is the first day of the week when everybody heads back to work after enjoying their weekends.
Hence, Monday.com was easily relatable with the project management and collaboration tools daPulse offered.
Buying a premium domain name like "Monday.com" would never have been easy. We coordinated and negotiated on behalf of daPulse to help acquire Monday.com. Rebranding projects are cumbersome, and can take time to identify if a name might be available, and if there are any red flags, trademarks, or questionable history around the asset.
Domain name values vary, and domain names are worth what a buyer will spend on them. It was critical for daPulse to first identify their intention, including a couple of alternatives, in case Monday.com might not have been available.
We are not able to share the purchase actual price, but it has paid back in dividends.
Monday.com Rebranding and Scaling
daPulse officially rebranded as Monday.com on the 13th of November 2017. The company posted a video of its employees reading the various ways it had been made fun of in the past. It was quite a funny video.
"In becoming Monday.com, our vision is finally encapsulated in our name," Roy Mann, the company's CEO, said. He spoke valid words.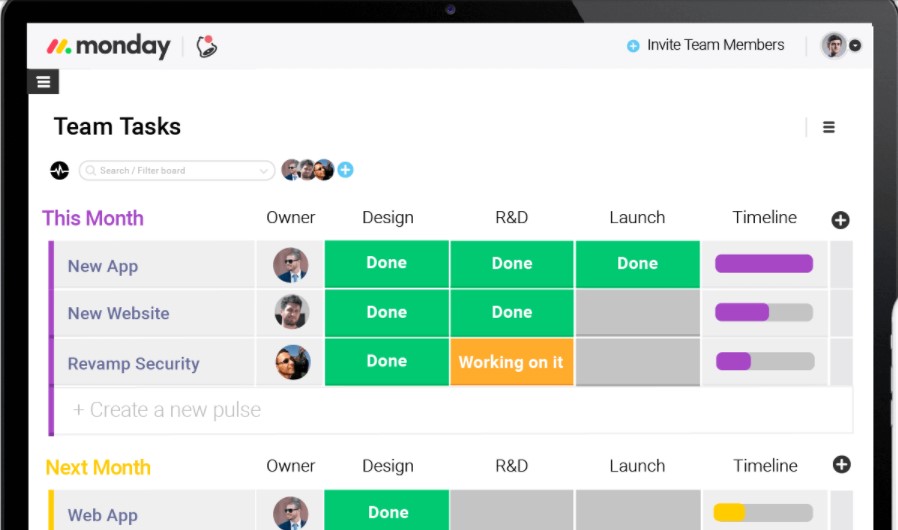 Monday.com shortly after rebranding.
Monday.com took off like never before after the name change, especially in the US. It added tens of thousands of users worldwide, translating to more revenue. In November 2017, when it rebranded, the company had 18,000 paying customers. By 2018, that number shot up to 35,000, and by 2019, 80,000.
Monday.com continued to grow on the back of venture capital funding. In July 2018, it raised a $50 million Series C round led by Stripes Group, a New York-based private equity firm. Existing investors from its Series A and B rounds also joined the new funding.
In July 2019, Monday.com announced a $150 million Series D round led by Sapphire Ventures, a Silicon Valley-based venture capital firm. That round brought its total funding to $234 million, a record for an Israeli tech startup as of that time. That was Monday.com's last official venture round before filing for an initial public offering (IPO) in May 2021.
Monday.com's S-1 filing for an IPO opened its books and revealed its closely-held financials. It turned out that selling SaaS software for enterprise collaboration was very lucrative. The company reported $161 million in revenue in 2021, compared to $78 million in 2019.
As of 2021, it had over 127,000 customers, including 335 paying over $50,000 annually. Monday.com continued to grow rapidly after the rebrand and was about to list on the public markets.
In June 2021, Monday.com raised $574 million from an IPO on the Nasdaq stock exchange. It marked one of the biggest US IPOs for an Israeli company. At the time, it was valued at nearly $7 billion. Now, that valuation has dipped to $5 billion, but it's nonetheless still very successful.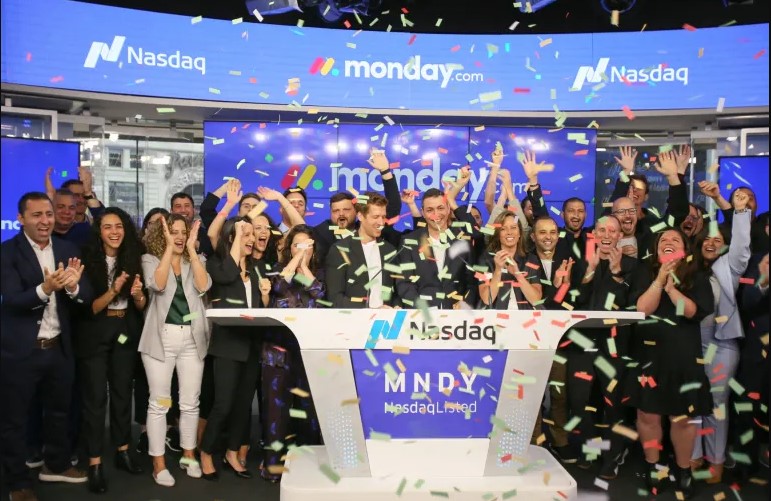 Monday.com holds a successful IPO. Credit: Monday.com
Lessons Learned
Your business name is essential to its success.
Many people underestimate the importance of naming their business. The name you choose for your business can make or break it.
daPulse had a great product, but it struggled to gain traction in the western hemisphere due to certain connotations with its name.
Monday.com's rebranding helped it gain international acceptance and growth like never before.
Pick a generic, relatable domain name.
It's beneficial to pick a domain name that's generic and related to your business.
Don't stray far to find a name that has little to do with your business sector. daPulse was an excellent product, but the name had little in common with enterprise collaboration software.
Monday.com, however, had many associations with workflow and teamwork and was, therefore, a good choice.
We understand that finding a generic-sounding domain name could be unaffordable for early-stage startups. Therefore, we'll advise you to imitate the daPulse-Monday.com model. Your business in its early stages could tolerate a non-specific domain name (like daPulse) but endeavor to switch to a generic, relatable one (like Monday.com) the moment you gain good traction.
Market your company effectively after rebranding.
It's crucial to market your company extensively after a rebrand. You don't expect people to pick up your new name without making them aware first. After rebranding, Monday.com spent significant sums on marketing its new name.
It adopted a variety of advertising mediums, including social media, search engines, and TV ads. In 2022, the company debuted its first advertisement in the Super Bowl.
Effective marketing has helped propel Monday.com into the successful tech company it is today.