How Second Nature successfully rebranded and skyrocketed their business
You may have heard of Second Nature, an air filtration subscription business based in Raleigh, North Carolina. Second Nature sells high-quality home air filters on a subscription basis, letting people access clean air conveniently.
However, the company didn't start with its current name. It was previously known as FilterEasy, before rebranding in 2019.
Rebranding from FilterEasy to Second Nature reflected the company's decision to become an all-encompassing "home wellness" brand instead of limiting itself just to filters.
It was a sound decision that made the company more attractive to customers and investors.
FilterEasy was a referral from one of our trusted partners to help identify the owner and secure the SecondNature.com domain name. They were budget-conscious and looked for a way to secure the domain name without investing all the capital on day one.
They were looking for a domain consultant that could help assign value to the asset, and also protect the anonymity of the FilterEasy team.
Second Nature is an ideal case study of how proper rebranding can boost a company's fortunes. It's something you can draw a lot of lessons from.
Starting Out
FilterEasy began in 2012 as the brainchild of two students from the North Carolina State University (NCSU). Kevin Barry and Thad Tarkington sought to help people access residential air filters conveniently. Their idea was to sell home air filters on a recurring subscription basis so that customers could change them regularly.
Often, homeowners buy air filters and forget to change them at the recommended time. An unchanged air filter usually clogs up, and debris passes through, causing adverse effects. Hence, subscriptions represented an excellent reminder for customers to change their filters.
FilterEasy passed through a local startup accelerator program and launched out of beta in 2014. It began by offering air filters in over three dozen sizes. Barely a year after its launch, it had amassed 10,000+ subscribers and grossed $1 million in annual recurring revenue, representing major success.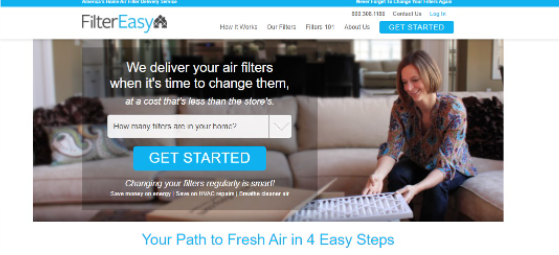 FilterEasy in the early days.
FilterEasy was a simple idea implemented remarkably. All it did was add the subscription touch to air filter procurement, and it turns out a lot of customers liked that option. In 2015, the company raised $1.2 million in seed funding to expand its business.
Scaling
After raising its seed round, FilterEasy was heading to higher heights. The company began spending significantly on marketing to spread the word to customers. It wasn't enough to have a good product; people had to know about it.
FilterEasy invested in TV and social media ads to help market its brand and did so successfully. Another exciting marketing strategy the company undertook was partnerships with property management companies. Customers may not be convinced by TV or social media ads but pay much attention to the companies managing their rental properties. FilterEasy partnered with such companies to help spread the word to residents. One example is Ultimate Property Management, a North Carolina-based property management firm.
Ultimate Property Management teamed up with FilterEasy to create custom air filter solutions for their residents. The firm negotiated the exact quantity and size of filters required for a single change and ensured they were delivered to tenants on schedule. Likewise, the air filter packages included personalized messages with instructions on how to change filters.
Ultimate Property Management ultimately found out that tenants were keen to change their air filters when they arrived at their residents' doorsteps. For the ones that didn't, it sent email notifications to remind them. It was evident that FilterEasy had solved a significant pain point for residents with a simple idea.
FilterEasy raised subsequent funding rounds following its 2015 seed round. In 2016, the startup closed a $4.5 million Series A round from a group of VCs, including Fidelis Capital, IDEA Fund Partners, and Azure Capital Partners.
In 2017, FilterEasy closed a $6.9 million Series B round led by Arsenal Venture Partners. The company showed outstanding growth; its revenue rose 300% from 2016 to 2017, so it wasn't surprising that investors broadly opened their checkbooks.
FilterEasy deployed its funding to grow its business. Driving the growth was a strategic manufacturing partnership with AAF Flanders, America's largest residential HVAC filter manufacturer. FilterEasy never had to worry about inventory because AAF Flanders always supplied on time.
Rebranding
FilterEasy rebranded as Second Nature in 2019, a time of rapid growth. The company didn't want to be known only for filters, so it took on a more generic name. Nature represents the phenomena of the physical world, including the air we breathe in. Second Nature bodes well with home wellness and general sustainable green living.
FilterEasy officially rebranded as Second Nature in August 2019, changing its domain name from FilterEasy.com to SecondNature.com.
The company purchased the new domain officially on the 19th of July, 2019.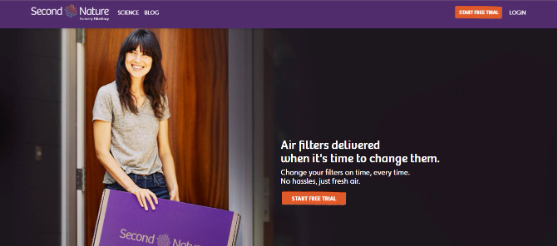 Second Nature shortly after rebranding.
It is much more difficult for an online business to rebrand than a physical one. A physical store could change its name but remain at its exact physical location, so customers always know where to find it. On the flip side, a domain name is the only way to find an online store. If the name doesn't register in customers' minds, they won't locate the online store.
The same year it rebranded, Second Nature added a water filtration product to its lineup. Customers could now order water filtration systems as they did with air filters and have them replaced periodically. Likewise, property managers could also subscribe on their tenants' behalf.
In March 2020, Second Nature closed a $16.4 million Series C round from a group of new and existing investors. MANN+HUMMEL, a German manufacturer of air and water filtration systems, was a strategic investor in the round.
Second Nature had over a hundred thousand subscribers at its Series C round, compared to around ten thousand five years earlier. The 100,000+ subscribers brought in a steady bit of recurring revenue to power up the company's business. The company had expanded from about a dozen employees to 150 in five years.
In 2020, Second Nature also got a business boost from the Covid pandemic. The company started selling face masks made with air filter technology. Public health agencies, such as America's Centers for Disease Control and Prevention (CDC), advised people to use air filters and face masks to reduce the risk of contracting the virus. Second Nature provided these two things and earned significant revenue as demand exploded.
Rebranding as Second Nature was an intelligent move. Instead of limiting itself to filters, the company has positioned itself as an all-encompassing "home wellness" and sustainability brand. With the new name, the company would have no problem expanding its product line outside filters.
Lessons Learned
Choosing the right name is critical in every business. Second Nature might not be as successful as it is right now if it had picked the wrong name. Its current name fits greatly with the air filter business and is easy for customers to remember.
Also, don't be afraid to rebrand when you have the resources. The Second Nature domain name may have been too expensive for two college students, so they started with something more feasible. However, as the business expanded, the co-founders garnered enough resources to rebrand, and they did that successfully.
Also, ensure you market your company effectively after rebranding. Second Nature advertised heavily after its rebrand to make existing customers aware. It also took advantage of its new generic name to reach more customers.
The efforts paid off in the long run. Second Nature is now a well-known company pulling in tens of millions of dollars annually.